NR100 is a high-cost performance handheld colorimeter, and easy to use. It is widely used in plastic, electronic, paint, ink, textile, garment, printing and dyeing, food, medical, cosmetic, industries, scientific research institutes, schools and laboratories.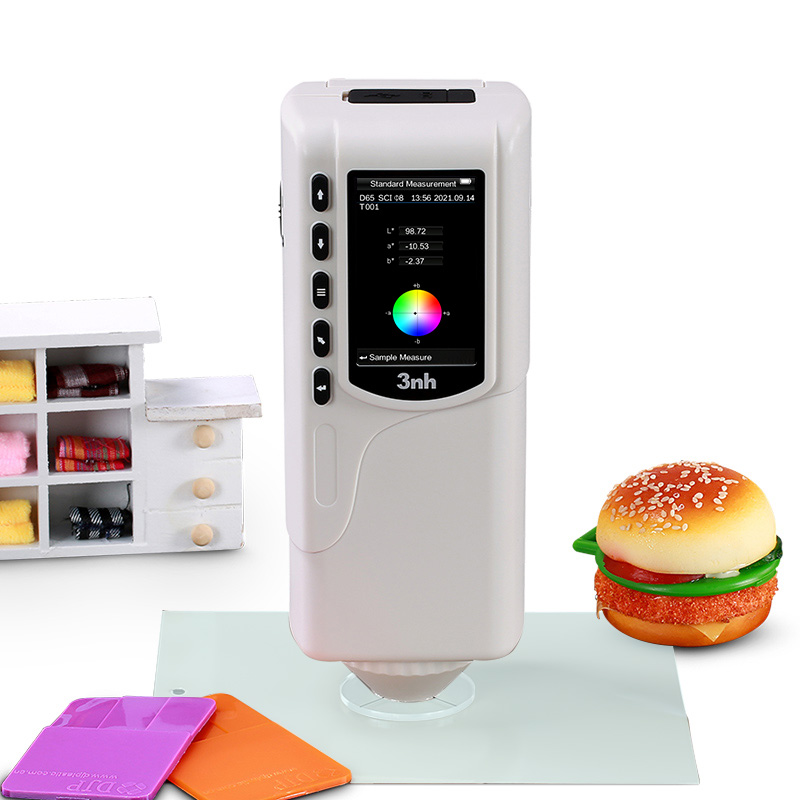 With two apertures, NR100 colorimeter is suitable for most samples to check color difference. 8mm flat aperture is good used to measure large plane samples while 4mm tip aperture is used to measure small objects with concave surfaces. It is easy to use, and can meet the customer's routine testing needs.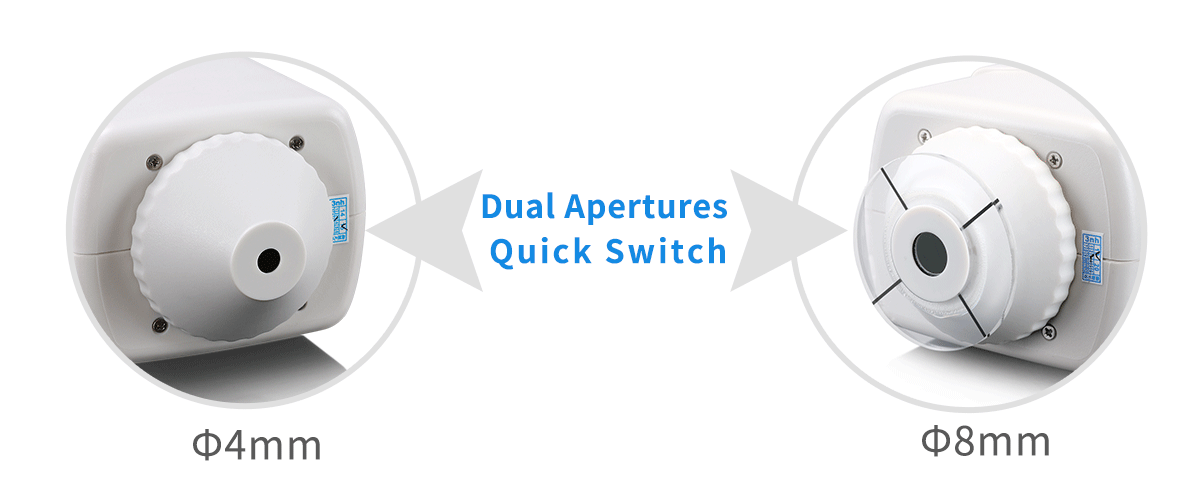 Product Advantages
a. Built-in white plate parameters. No need to calibrate each time which realize rapid measurement;
b. Double Apertures: Φ8mm flat aperture and Φ4mm tip aperture for switch, easy to measure concave sample in large plane;
c. High stability and accuracy, good compatibility for test data compared with geometric optical structure D/8 spectrophotometer;
d. Double locating: illuminating locating and cross locating;
e. Equipped with rechargeable built-in high-capacity Li-ion battery. No need to purchase battery repeatedly;
f. True color FTF 2.8 inch display, good human-computer interaction;
g. More than 10,000 test data storage spaces;
h. The new integral sphere design makes the measurement more stable.
 NR100 Colorimeter Technical Specifications
Model
NR100
Illuminating/Viewing Geometry  
8/d(8°illumination angle/diffuse viewing); Conforms to CIE No.15,GB/T 3978.
Illumination
LED white light
Detector
Silicon photoelectric diode
Measuring Aperture                      
Φ8mm flat aperture; Φ4mm tip aperture
Color Space
CIE LAB
Color Difference Formula
ΔE*ab
Observer Angle
CIE 10°
Light Source
D65
Displayed Data
Chromaticity Values, Color Difference Values/Graph, PASS/FAIL Result, Color Offset
Measuring Time
1.0s
Repeatability
Standard deviation within ΔE*ab 0.03 (Average of 30 measurements of standard white plate)
Errors Between Each Equipment
Within ΔE*ab 4
(Average for 12 BCRA Series II color tiles)
Dimension
205×67×80 mm
Weight
500g
Power source
Rechargeable lithium-ion battery 3.7V@3200mAh
Lamp Life
TFT  2.8 inch
Interface
USB
Data Memory
100pcs standards 10000pcs samples  
Operating Environment
0~40℃(32~104°F)
Storage Environment
 -20~50℃(-4~122°F)
PC Software
No
Standard Accessory
Power Adapter, User Guide, Wristbands, Φ8mm flat aperture; Φ4mm tip aperture.
Optional Accessory
Micro Printer, powder test box
Notes: The specifications are subject to change without notice.